After living in Koh Tao, Thailand, for almost two years it was time to move on and find a new place to settle down, explore new dive sites and a new culture. After a few weeks researching and continuously checking PADI Pro job offers on different platforms, we finally got a job interview at Blue Marlin Dive in Gili Air, Indonesia.
In the end of February 2016 it was time to pack our bags and say goodbye to Koh Tao and our well loved friends. Now we´re sitting on the beach in Gili Air and I am writing this post.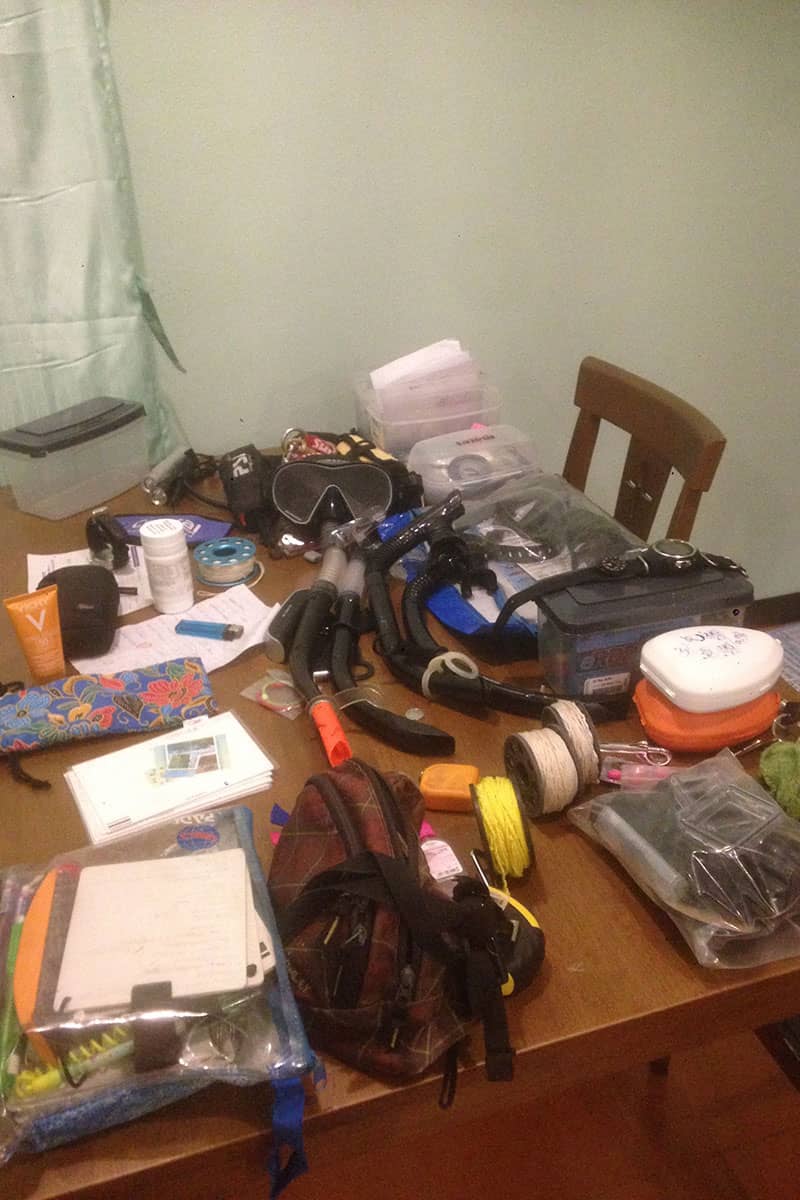 Leaving Koh Tao
The moving was a little stressful since we had a lot of stuff to take with us. In the end we had a huge bag just for our equipment, our 2 backpacks with clothes and other things and each of us had a daypack. We did certainly not travel light and if we would have needed to move again we would probably left a lot behind. Travelling with ≈ 75 KG is just to much. We left Koh Tao in the morning with the 6 o´clock Lomprayah ferry to Surat Thani Airport, from there we took a plane to Kuala Lumpur. We had two and a half hours to get our luggage, check in for the next flight to Bali and get through customs which was still enough time get a bacon and cheese Whopper at Burger King.
From Bali to Gili Air
We arrived in Bali on the 22nd of February at night and decided to stay 2 days in Kuta to have a look around and book our tickets to Gili Air. We paid 250'000 IDR (≈ 17€) each for the mini van and boat ride. On the 25th we had to hop on the mini van at 6 in the morning after a 2 hour ride we arrived in Padang Bai close to the pier. After waiting an hour we got walked to the pier where it felt like 100 other people wanted to go on a boat as well. Luckily not all went on the same boat and somehow everyone ended up on the right one.The sea was flat and it was a relaxing boat ride over to Gili Air with a quick stop at the harbour in Lombok. We arrived in Gili Air at lunch time, it was really hot and we thought about taking a horse cart to our Homestay which was roughly 7 minutes far away by foot. But after asking for the price, which was 100'000 IDR (≈ 7€) we decided to walk. We booked our Homestay via booking.com, its called Jibril Guest House and its a really nice place for a few days. The guys working there are always smiling, friendly and helpful. The only downside is the fact that the mosque is almost next to it which sometimes can be a little noisy. We found our way to the accommodation easily with the help of the offline map Ulmon Pro. On our first day we had some time to explore the island. It is a small island and there are no motorized vehicles allowed, everyone walks, rides a bicycle or gets around with a horse cart (since it is a little expensive to use the horse cart we never tried it). The religion on the island is Islam, which means a few times a day we can hear the call to prayer.
What do we do all day
We got employed by Blue Marlin Gili Air but since the shop is still under construction at the moment we are taking a "Holiday". Our new Bosses arranged for us to go diving on Gili Trawangan with Blue Marlin which is amazing. The diving here is great and we are really happy we have the opportunity to get used to the dive sites here before we start to teach new students. If we don't dive we spend our time to work on the website and Arved takes his time to finish some web-projects from Germany. We were staying at Jibril Guest House since we arrived here but after a few weeks it got to small, one room and not a lot of furniture for all our clothes and stuff is absolutely not enough. So we rented 2 bicycles and went to different Homestays and asked for rooms with kitchen or a house for rent. In the end we needed 2 weeks until we found something that was nice enough for us. It is a small concrete bungalow at "Happy Homestay", with a kitchen, separate bedroom and a terrace with a small garden. We will move in there on the 1st of April. So far we can say it was a great decision to come to Indonesia. It all worked out and we are really happy about it. We are really looking forward to the day when the shop is finished and we can start teaching our first students here. 🙂 And we are looking forward to family and friends visiting us on this beautiful island called Gili Air.
Have you been to the Gilis already? Tell us about your Adventure in the comments ...